I was born in the summer of '84. When I was about 6 months old, the Chicago Bears won the Super Bowl, and I have early memories of playing the Super Bowl Shuffle on our record player (probably from when I was a bit older than 6 months). And then the Chicago Bulls drafted a man by the name of Michael Jordan, and around the age of 7 I experienced basketball greatness, which carried on throughout the 90s. Around the same time the Chicago Fire were dominating the MLS, and the Chicago Wolves were raising banners in the AHL, as well. And then* it seemed like we finally started a professional hockey team in the 2010's, and it was fun to celebrate the Blackhawks hoisting Cups almost every other year.
During my early childhood, I also started playing little league baseball, and fell in love with the good guys in blue, starting with guys like Andre Dawson, Mark Grace and Ryne Sandberg. I remember reading the sports section daily to track the home run race between Sammy Sosa and Mark McGwire. I placed a lot of hope in Kerry Wood and Mark Prior, and then again thought Lou Piniella was gonna work magic with Carlos Zambrano, Ryan Dempster, Derrek Lee and Aramis Ramirez.
And then the Cubs did something I never thought would happen…they got rid of Jim Hendry. And from that point, it seemed like everything was falling into place.
I've had to deal with a roller coaster of emotions and a generally sub-par baseball team as "my team" for about 25 years…far less than many other Cubs fans, but still much longer than anyone would want. And so seeing this group of guys finally do the unthinkable in Chicago was a crazy experience – Cubs fans generally are prepared for the worst…expecting the worst. And when the best happens, you sort of don't know how to react immediately.
My desire to celebrate with the team had a couple hiccups along the way. The first problem was my son wouldn't sleep through the night (praise God for my wife who managed to deal with him through it all as she is his first preference for everything). Then in the morning, he only wanted me by him, which meant me joining the trip to the doctor to verify he had an ear infection. So I caught a later train to the city only to find out that 4.5 million people got there before me. Ah well, I guess that was expected.
While I didn't get to take part in the rally, and only managed to see the impressions of a bus with players on it beyond the many cell phones lifted in the air, it was still an interesting experience to join the 5 million+ people celebrate the first of what looks to be many more parades in my lifetime.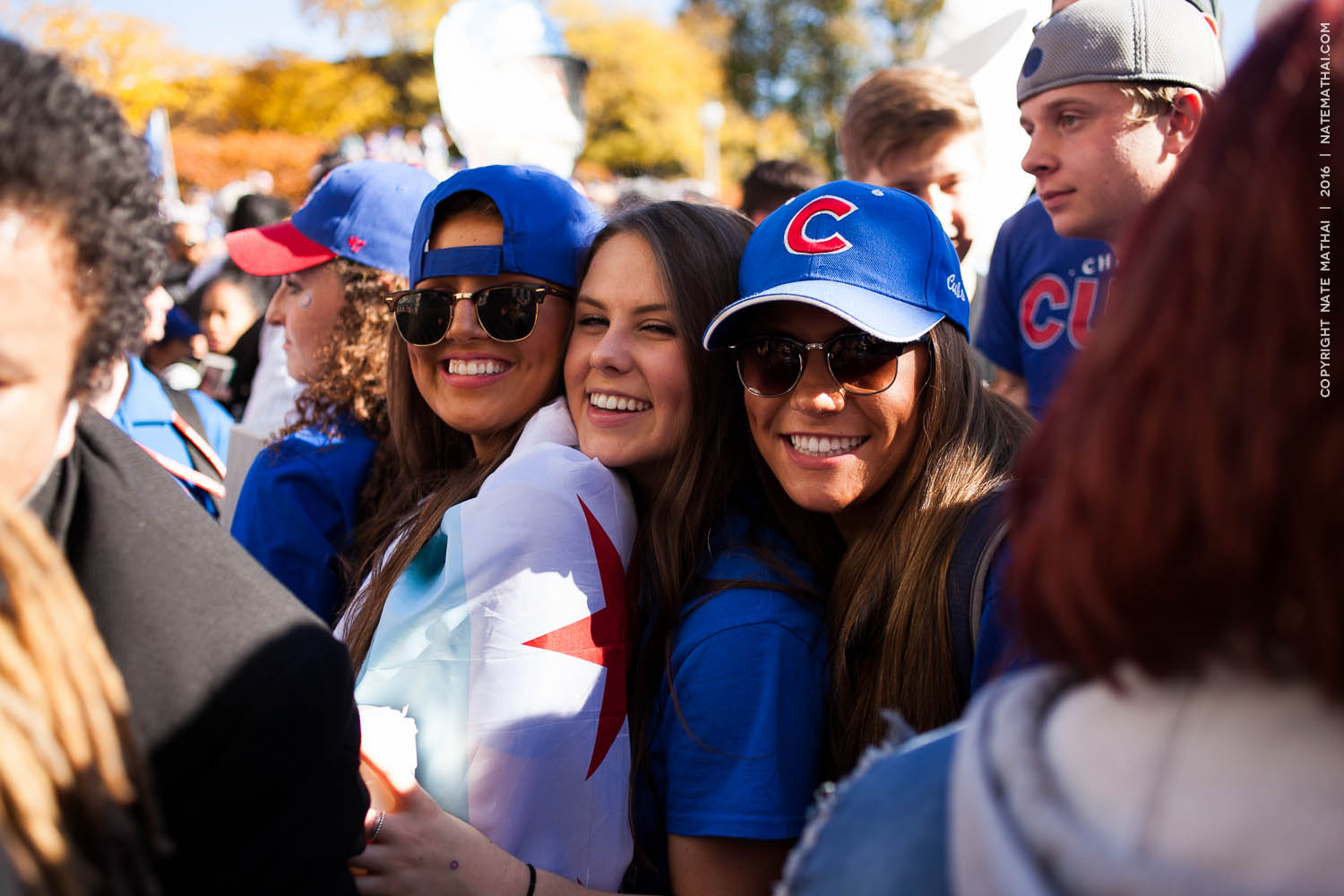 Cubbies, thank you.
Bears and Bulls…you guys are now on the clock. Let my kids grow up in a world where every pro sports team is a regular contender.
*Note: I am fully aware that the Chicago White Sox won the title in 2005. However, by then I was fully bleeding Cubbie blue. I was happy for the White Sox fans, but that team didn't really play a role in my sports fandom (though I was a pretty big fan of Frank Thomas and "Black Jack" McDowell).