Since I recently picked up the iPhone, that pretty much meant I had no use for the iPod Touch I purchased less than a year ago.  I posted that I was open to selling, and got a few inquiries, so I wanted to post an official 'for sale' on it with full disclosure.  Email me at info(at)natemathai(dot)com if you're interested with your offer.  It'll most likely go to either the first response or the best offer (if someone goes way above and beyond the others). The iPod Touch has been sold.

Specs/Details:
–  8GB iPod Touch
–  Factory Restored (latest update)
–  USB 2.0 cable for sync/charge
–  Original Box and User Docs
–  Hardshell clear case (purchased for around $25…included, but you can buy another if you'd like)
–  back is branded with 'nmathai photography' – not seen if its in a case, and does not affect use
–  aluminum is a bit 'cloudy' – unnoticeable with case and does not affect use
Images: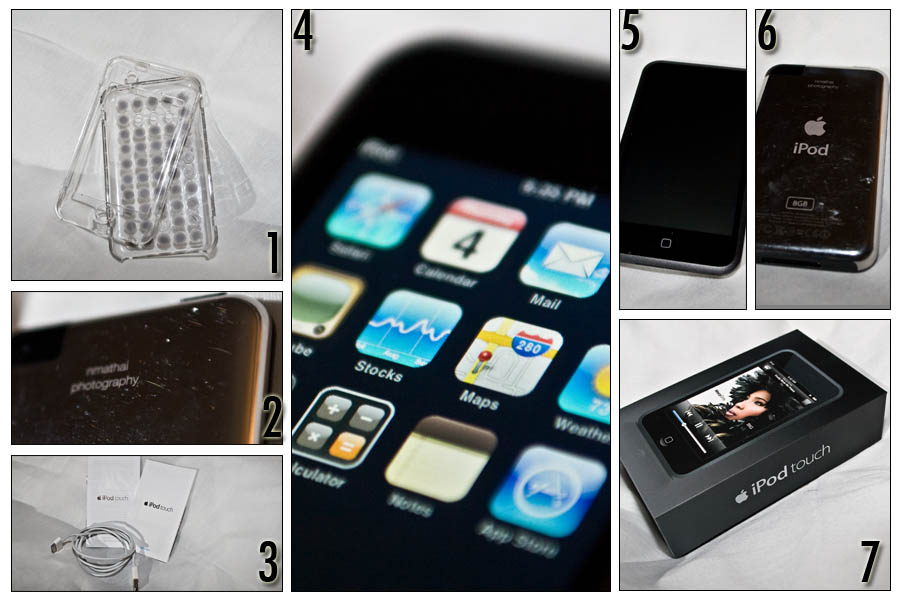 (1)  Clear Case
(2)  branding/cloudy backing
(3)  User Guides and USB charger/sync cable
(4)  iPod Screen
(5)  8GB iPod Touch (front)
(6)  8GB iPod Touch (back)
(7)  Original Box
Any additional questions, just post in the comments and I'll get back to you there.  I'll let everyone know when it's sold.
If needed, I'll ship it out, but buyer covers shipping fees (continental US).  I'll accept cash, check (must clear first) or Paypal (CC through Paypal accepted too).  E-mail me at info(at)natemathai(dot)com if interested!